Guess who is already 8mo old?!?!?!?!
This man!!!
Can you believe it??? I can't! Only 4 mo and my baby will be 1yr! How can that even be possible?
He is now 17lbs 3oz and somewhere between 26.75 and 27.5in..not sure haha. He's our little guy, slows more each month.
He is sleeping pretty good this month, aside from the past few days from being sick. Still wakes for about 2 feeds a night, sometimes 3. He absolutely loves his solids..he eats 2x a day 4+oz each time. He LOVES puffs. Anything with pear or mango is a huge hit. He will eat any veggie as long as it's organic and in a pouch...for some reason he doesn't like jarred veggies? But that's ok, I love the pouches, so many cool varieties. I'm a baby food freak....we get WIC right now and they give us 64 jars a month, can't be organic and has to be the 4oz jars..so we don't use much because he eats mostly organic. We do use some though and whatever we have left I'll give to Dessa. But this is what his baby food cabinet looks like right now...it's ridiculous! Each row is a minimum of 2 deep, some 3-5 deep. There are more pouches than it looks like, like bottom shelf on the left side there are like 9 of those sprout pouches, the other pouches are hidden behind each other too haha.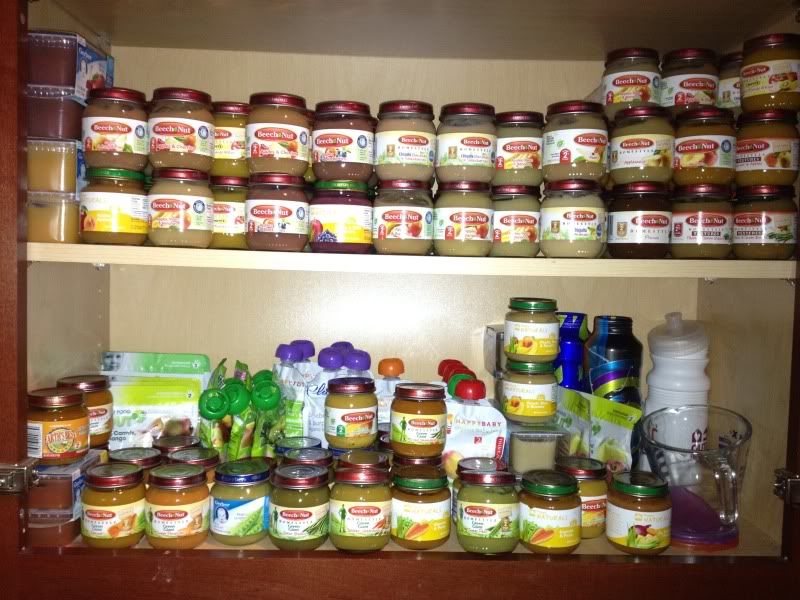 He is still in fulltime cloth too, yay! The only disposable he's worn in the past couple months was at the ER the other day because they had to cath him and put iodine on his penis to clean it so didn't want it to stain my diapers of course haha. His stash is getting a bit ridiculous. I just placed my last order today..have to be done! I have 1 more goodmama, 8 sunbaby diapers, 4 fuzzi bunz small, 1 BG pocket for overnight and 1 Fuzzi Bunz OS Elite on the way then NO MORE!!!!
His most current stash photo...it's missing about 8 diapers I think, plus the ones above that are on the way and one more goodmama that arrived after this pic
He is such a sweet baby, so loving, gives kisses ALL the time! He is also so happy and laid back, really is an awesome baby. He still is only sitting up and rolling from tummy to back. He isn't trying to crawl yet, isn't interested at all. He goes back to the developmental pediatrician on the 13th but I really think it's that he doesn't want to, not that he isn't able to. But we'll see what they say when we go back.
Poor guy is still feeling awful from whatever he is battling. He had been doing better this morning/early afternoon but since about 4 he's just started feeling worse and worse. His temp spiked back up, though luckily not quite as high, didn't get to 104 today. He really hasn't let me put him down in 3 days and tonight Mark was late getting home so the only way the big boys were getting dinner was by me putting him in his ergo and carrying him while making them something to eat
Tomorrow I'm picking up my camera from Dessa, I let her borrow it when Isaiah was born but we have to go out to Mansfield for Landon's dentist appt so I'm going to swing by and pick it up. Maybe if Preston is feeling better tomorrow I'll do his 8mo pics, otherwise they'll have to wait until he's feeling better